Value Creation through Corporate Art Collections 
While private individuals have collected art for millennia, Corporate Art Collections are a relatively young phenomenon. In 1957, Chase Manhattan Bank was the first organisation that implemented a Corporate Art Program based on an idea of David Rockefeller. It turned out to be a great success and the concept has spread around the world ever since.
Today, many companies own, display and leverage extensive Corporate Art Programmes – which come with considerable benefits.
The reasons organisations choose to collect art include: 
Art being an asset class of its own. Works may increase in value over time and investing in art can provide a hedge against inflation.

 

Employees feeling more valued in an office environment that features art – (several studies have measured the increased productivity)
Impressing visitors, partners and clients.
Using works as part of advertisements and communication.

 

Possibility to lend works to museums.
Philanthropy. Corporate Art Collections can be turned into Art Foundations which improve the visibility of the company and affect its reputation in a positive way.
Due to our expertise in fine art and its markets we are able to help you build and maintain a Corporate Art Program that fits your purpose.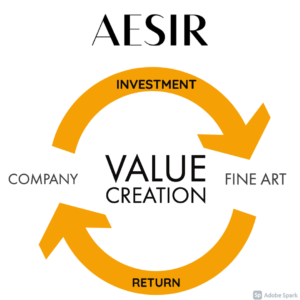 Real Estate and Properties Development
Aesir Fine Art works with leading professionals within fields such as Real Estate Development and Real Estate Brokerage to create tailored art concepts for office buildings, hotels and private properties.
It will not come as a surprise to you, that fine art and real estate are a powerful combination. Working with us, you will be able to offer art advisory as complementary service to your clients. This way, your properties will stand out from the competition and fine art will elevate the overall experience of your clients. This is especially relevant if you work with blue chip clients or develop properties for usage in the luxury sector.
If you are a real estate professional, contact us to learn more about opportunities for partnerships and collaboration. 
Tailored Art Programmes for Medical Settings
There are many good reasons to buy art or even build a corporate art collection – even more so if you happen to be a provider of medical and healthcare services.
Your patients likely experience a certain anxiety and distress prior to medical procedures. As a medical service professional it is in your interest to create an inviting environment and make your patient's stay as pleasant as possible. Besides the facility's layout and interior design, fine art can play an integral role in shaping your patient's experience. It is even considered to have therapeutic value. In addition to that, it will increase your own and your employees wellbeing at work and give your workplace a personal touch.
It will also affect your reputation in positive ways that you might not have considered before. Businesses that offer goods and services of exceptional quality often affiliate themselves with art. Affluent patients will likely appreciate art and feel more connected to your business and its offering if art is part of the experience.
There are financial benefits to consider as well. In many countries, it is possible to deduct expenses related to art and art advisory from taxes. Being an asset class in itself, fine art can also be an opportunity to diversify your investments. If you decide to build a corporate collection you also have the opportunity to turn it into a foundation at a later point – which comes with several benefits for your business.